Announcing a revised, more customer friendly proposal viewer for Paperless proposal software and upgraded email.
Easier more customizable email sending with better deliverability around spam filters.
Send email yourself with one button click. No more copying links!
PIN numbers to allow better tracking of who viewed your proposal even when someone forwards it to someone else the system will prompt them to fill in their email address when they view the proposal.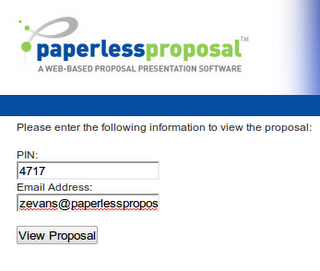 User Friendly Business Proposal Viewer
In response to client feedback when your client opens the proposal they get a full browser view of the proposal with a simplified toolbar for ease of reading and use.

User Friendly and More Effective Email
We always strive for the highest deliverability around spam filters, security, and analytics of your proposal. To improve all of these the following changes were made:
The email interface has been refined to include the ability to edit the subject and the whole body of the text.
The email has been changed to plain text without logos to ensure the best levels of deliverability around spam filters. We modeled this after GoToMeeting which most people are familiar with.
We have a revised I\'ll send it myself tab which includes a button to copy the email and then you can paste it into Outlook or whatever email you are using.
We also have an Open in Outlook button which if you are using a desktop email software such as Outlook or Mail on the Mac it will open a new email where all you have to do is put in the recipients and send just like you would any other email from your computer.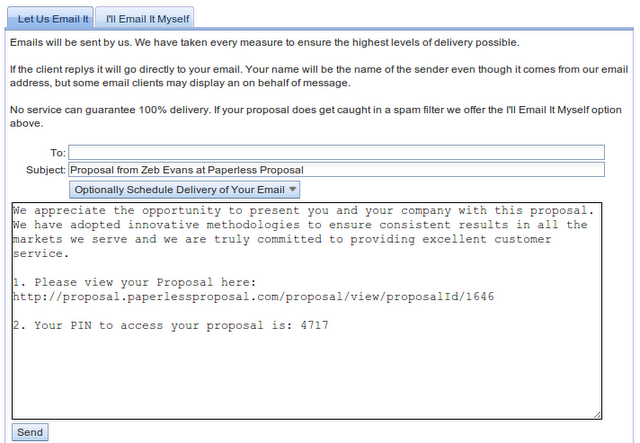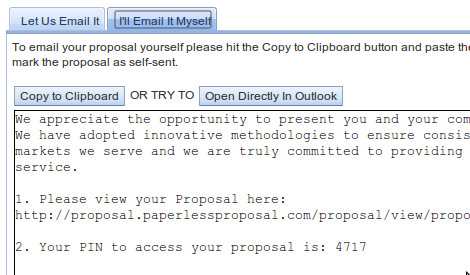 Zebulon (Zeb) Evans
Paperless Software, Inc.
Director of Technology