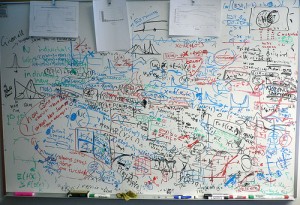 (Disclaimer: Epic Fail is the name of the series, I by no means consider the 30 second MBA a failure.)
How do you earn a MBA in thirty seconds? Is it by watching FastCompany\'s Thrity Second MBAs? I\'m going to be honest with you: no. We are all friends here, right? This is not how you earn a MBA in thirty seconds. Actually, if we\'re going to be completely frank, it isn\'t even possible to earn a MBA in under a minute. But you didn\'t hear that from me.
Nevertheless, these guys do have a pretty cool idea going on. They have a collection of "professors", AKA various founders, supervisors, and CEOs of well-to-do businesses. The professors are posed a handful of questions that range from "How do you resolve conflicts" to "How do you give negative feedback to a colleague?" and answer these questions in easy to watch, 30 second videos.
There are dozens upon dozens of these little video blurbs, but one of my personal favorites is the "How do you handle mistakes?" series. Christopher Lukezic, Director Of International Communications of Airbnb (a company that provides an alternative to hotels for frugal travelers) gives some profound advice:
"You are never freed from making mistakes, but you are held accountable for how you respond to them."
The advice of Ryan Boyles, Worldwide Social Media Strategist of IBM Software is exceptionally practical. He, predictably, focuses on social media, but I feel like this idea is pertinent in every realm:
"I believe the best way to address making mistakes [...] is really no different than in real life: you need to own that mistake [...] So the speed in which you respond, even if it\'s just admitting the mistake, is key."
Finally, I leave you with the motherly advice of Dr. Elizabeth Mellon, Executive Director of Duke Corporate Education. Failure is just an opportunity to learn, in her opinion, and she underscores everyone\'s ability to bounce back. Her advice, in the face of failure is to:
"sit down with some colleagues, dissect what happened, [and] help them and you avoid making the mistake again. The bottom line is, if you\'re not making mistakes, you\'re probably not trying hard enough."
Win more clients by creating impressive digital business proposals, price quotes, and contracts using ClientPoint Software
If you want your business proposals, price quotes, and contracts to stand out and give you the best chance at winning new clients, use ClientPoint's business proposal software. It makes creating and formatting professional business proposals, price quotes, and contracts fast and easy. Click the button below to get a FREE demo of ClientPoint.