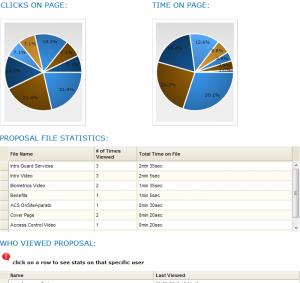 How much data do you get back on your business proposal? You probably only know if it was won or lost. Is this enough? Does it help you improve your proposal or sell more effectively? Perhaps we should take some lessons learned from the inbound marketing guys who have taken the art of advertising and turned it into an exact science to improve their lead generation and selling power.
When an inbound marketing campaign is properly managed it relies on detailed analytics to tell the marketers exactly what is working and what is not. They harness the power of rich media and video to connect with their audience and engage. They run A B testing utilizing the analytics to see what landing pages perform better and generate or convert more leads.
What if you could get detailed analytics on our proposals? What if you could know immediately when a proposal has been viewed and approved. What if you could test multiple versions of a section of your proposal and see what one performed better and eliminate the poorer performing piece? What if you could see exactly what parts of your proposal your prospect looked at and the amount of time they spent, could you sell to that prospect more effectively?
We need to get off of sending PDF proposals and letting them fall into a black hole only giving us back the data of if we won or lost the proposal and start utilizing proposal analytics.
Utilizing a
proposal software
tool to create, manage and track our proposals such as
paperlessproposal.com
we can now send a proposal with video and get detailed analytics back on the proposal helping you sell not only that prospect, but refine your proposal for future prospects.
----------------------
Win more clients by creating impressive digital business proposals, price quotes, and contracts using ClientPoint Software
If you want your business proposals, price quotes, and contracts to stand out and give you the best chance at winning new clients, use ClientPoint's business proposal software. It makes creating and formatting professional business proposals, price quotes, and contracts fast and easy. Click the button below to get a FREE demo of ClientPoint.