Announcing the latest version of ClientPoint. We are proud to announce the following new features. Please keep an eye out for these new features as they will start becoming available in your account shortly. If you would like more information or about these new features or a refresher training please contact support@clientpoint.net.

Maintenance for the launch is scheduled for 2/14/2016 10:30 - 11:30PM Pacific time.

Defaults and Hiding for Checkboxes on Client Info Page

The checkboxes on the client info page can now be hidden and you can set the default to checked. To set this up your administrator can go into admin->company setup->configuration. This is a huge win for those of you who want to require or hide certain options such as enable client upload, disable comments, etc.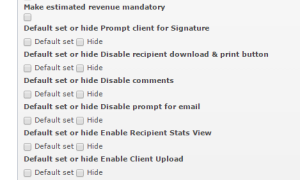 Set a Default Category for Proposals
We heard from many of you that you would like to change the name of the default category and not use unfiled. Your administrator can now set the name of the default category or set a different default category in admin->company setup->proposal categories.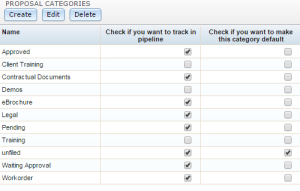 Division Specific URL

We can now set a division specific URL for your divisions. If you have another brand that is represented by a different website we can now support a different subdomain for that division. For example if your main company is mycompany.paperlessproposal.com and you have another division with a website www.othercompany.com ClientPoint can now serve your proposals from othercompany.paperlessproposal.com.
Duplicate Now Defaults to New and the Default Category

We heard that when a proposal is duplicated you would like it to default to new and your default proposal category and now it does.
Analytics Improvements
In addition to each view session with IP, email, and time last viewed you will now see an added column Total Time on Proposal. This means that at a glance not only can you see each person who has viewed your proposal, but you can see the total time they spent on the proposal during that view session.
Other Improvements and Resolved Issues
Administrators can now require the revenue field on the client info page
All proposal email sent from Paperless are now sent out as HTML to prevent the link from breaking on some mobile email clients
Manage screen now remembers your search when you return to it
The division on the client info page is now defaulted to the user's assigned division for all users
When category, service or sub-service is deleted in admin the administrator now can automatically move proposals
Importing a contact from Salesforce.com now imports the title and mobile
When you local edit an internal file it will now stay internal
When you make a file downloadable then go to another file downloadable is now unchecked
Download notification emails no longer go out to rep when downloading the proposal while signed in
When you click off of proposal files the saving progress message has been fixed to show the correct message
You can now delete the archive and eBrochure category
CMYK images on the theme no longer show a black background
Subservice now hides on manage screen when there are none to show
The .tech domain now works as an email to view a proposal
If you experience any issues please email support@clientpoint.net.
Have a great week,
Zeb Evans
CTO