In a digital selling environment, it's now more important than ever to offer an easy signing experience for your clients. ClientPoint E-Sign seamlessly allows your clients to sign contracts and get a signed copy to their email within minutes of signing.
ClientPoint is best known for taking the proposal process from chaos to clarity through a dynamic digital selling experience, but did you know that ClientPoint also has many other powerful use cases?
From video conferencing to e-signature, ClientPoint will enable you and your team to win consistently, in a world where selling in a digital environment is an absolute must.
Let's dive into just one of the ways ClientPoint humanizes your digital selling environment and offers your clients a seamless signing experience.
CLIENTPOINT E-SIGN
From sales contracts and offer letters to account openings and invoices, agreements are everywhere. With ClientPoint E-Sign, you have the ability to complete contracts, approvals, and other agreements in minutes rather than days.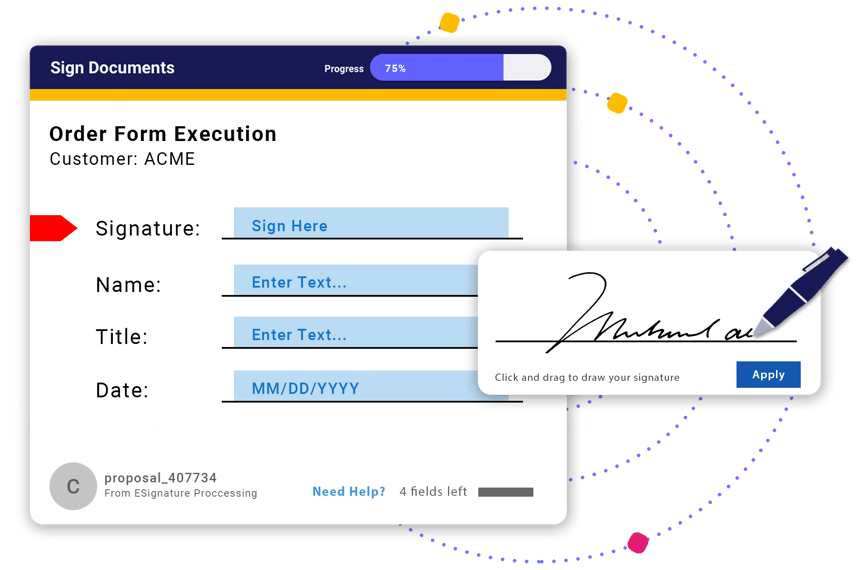 CLIENTPOINT E-SIGN BENEFITS
Receive real time notifications of completed signed documents.
Create an easy and pleasant signing experience for your recipients.
Keep your ClientPoint activate for all recipients, even after contracts are signed.
Get signed copies emailed to signees, and you!
and so much more!
If you'd like to learn more about how ClientPoint can help you with your E-sign needs, click here to book a demo with one of our experts.