Announcing the latest version of ClientPoint. We are proud to announce the following new features. Please keep an eye out for these new features if your administrator has enabled them.
Latest Features: New Year, New Files Library
As a user with ClientPoint, we want to let you know we listen to your feedback. With the New Year, we have launched an update to our library that we are sure you'll love as much as we do.
Check out what's new:
Search Files From Library
While creating a proposal in Files, quickly find what you are looking for using "Search Files From Library". You are able to search for files based on file name or file tags that your administrator has setup.
From the search results, users can:
preview the file or
click to add the file into the proposal.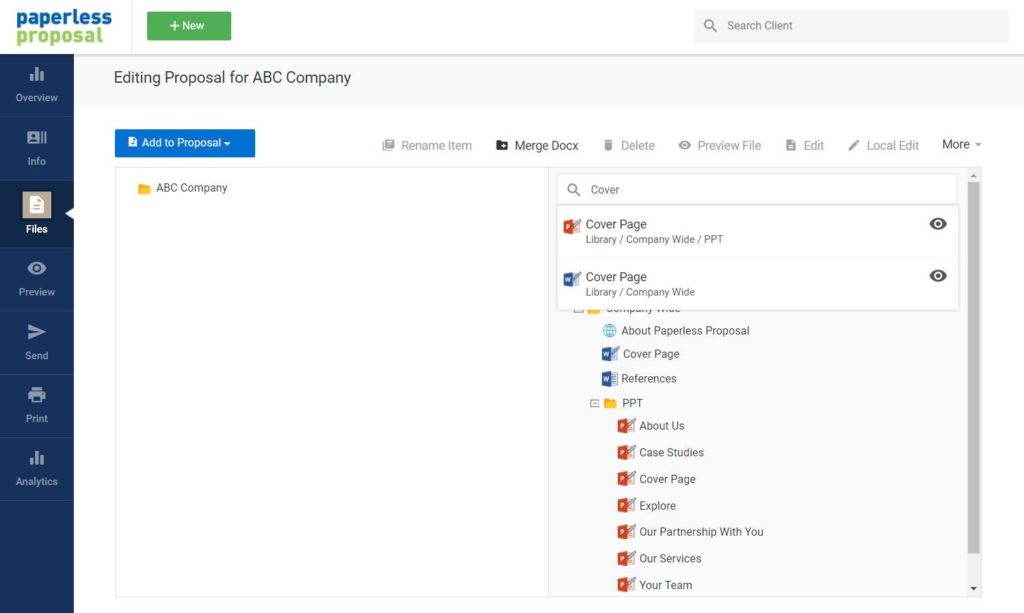 My Library and My Templates
Files you use in the selling process can now be stored in ClientPoint using My Library and you can create your own templates as well. My Library and My Templates will store files and templates separate from Company Wide templates and files.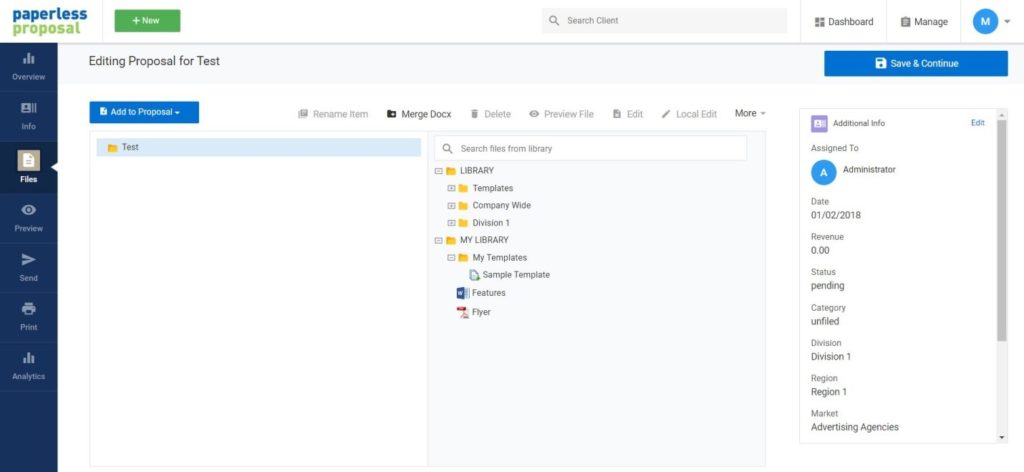 My Library
You will be able to upload different files (e.g. Word Documents, PDF Files, PPTX Files, Videos, Web links, Google Docs etc.) to My Library, and organize these files into different folders. You will be able to search using "Search Files From Library" and add any files from My Library to the proposal you are working on.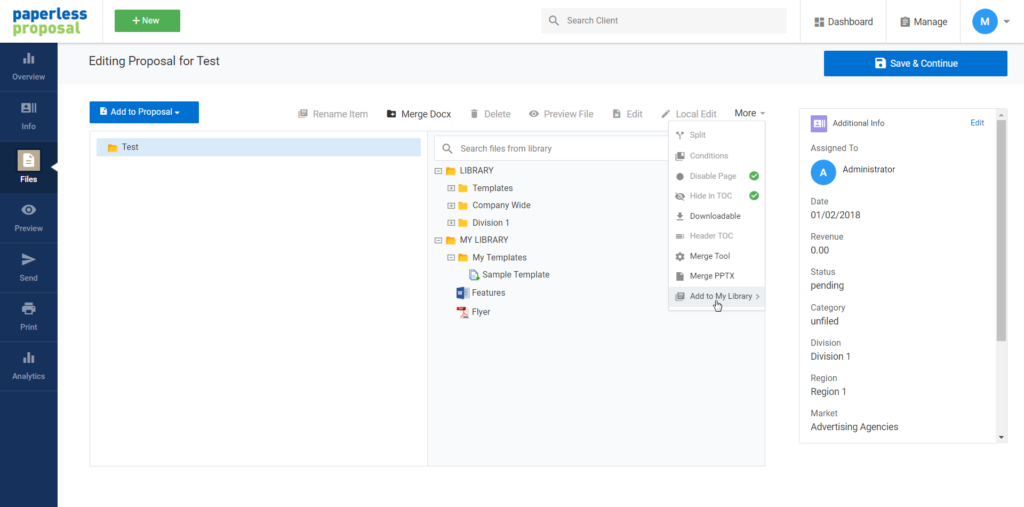 My Templates
All users will be able to create their own proposal templates. If there is a specific eBrochure you use often in the selling process you can upload those files into a my template a reuse it for many prospect. Under Info > Status, you will have a "My Templates" option. Pick and choose different files; add tabs, table of contents, links and videos into your templates. Templates are a quick and easy way to build out proposals and eBrochures.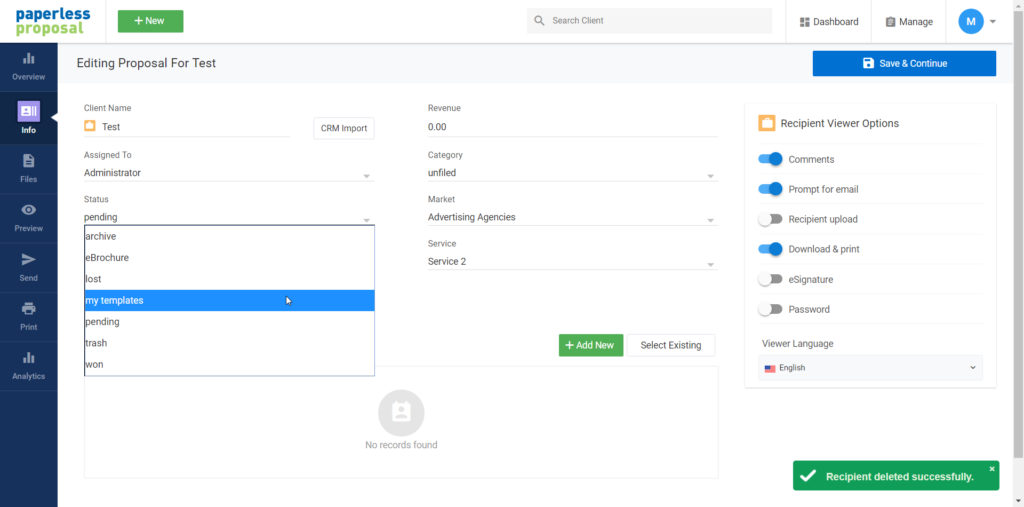 Multiple Folder Levels (Admin Only):
Create multiple folder tiers to organize your files. We have added a feature to create any number of sub-folders for your library files. Organize your Company Wide and Division Wide files in any way you want. You will also be able to move files from one folder to another folder or division using the "Move Files" feature.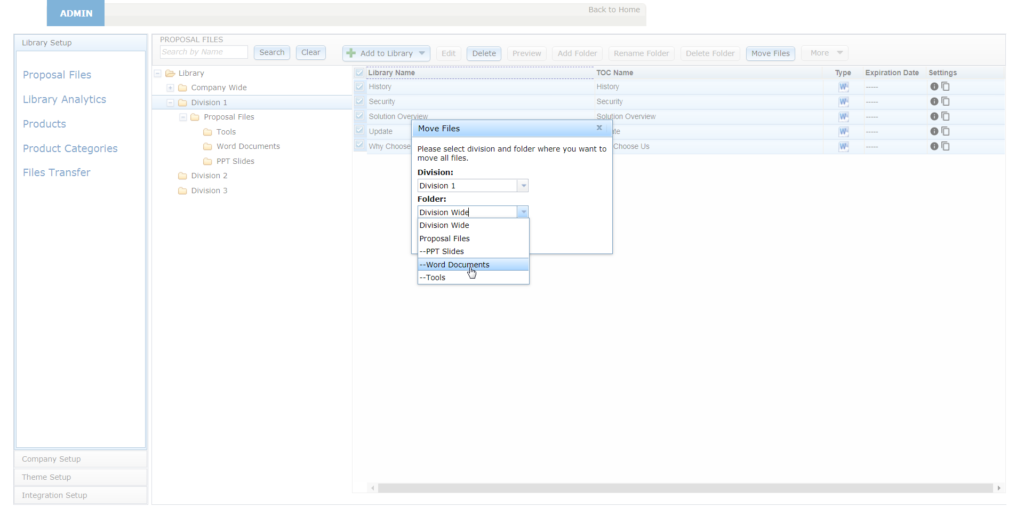 We truly hope you enjoy the enhancements and that they bring even more power to your proposals.
If you experience any issues please email support@clientpoint.net.
Have a great week,
My Nguyen
Training Manager